Sourcing - Our Producers and Suppliers
---
OUR PRODUCERS AND SUPPLIERS FROM SKYE, THE SCOTTISH HIGHLANDS & ISLANDS, SCOTLAND & THE WIDER UK.
The core value of The Three Chimneys approach to the creation and service of our Food and Drink is to work in close and trusted partnership with the finest Producers and Suppliers. Most of our ingredients are sourced from Skye, from the local crofters, foragers, fisherman and farmers living within a few miles of the restaurant. Followed now by the Scottish Highlands and Islands, wider sources throughout Scotland, the United Kingdom and the World. The freshness and integrity of our source ingredients and beverages are the hallmarks of the dining experience we create.
#TeamThreeChimneysSkye want to celebrate how much we value these relationships by listing everyone we work with...We plan to share more of these partnership stories as the season goes on. For now some Producer stories are already in place... more will follow soon...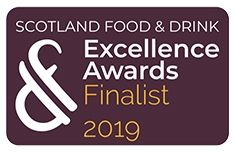 And The Three Chimneys have just been announced WINNERS for 2019!