The Three Chimneys Christmas Dinner
---
18.12.2022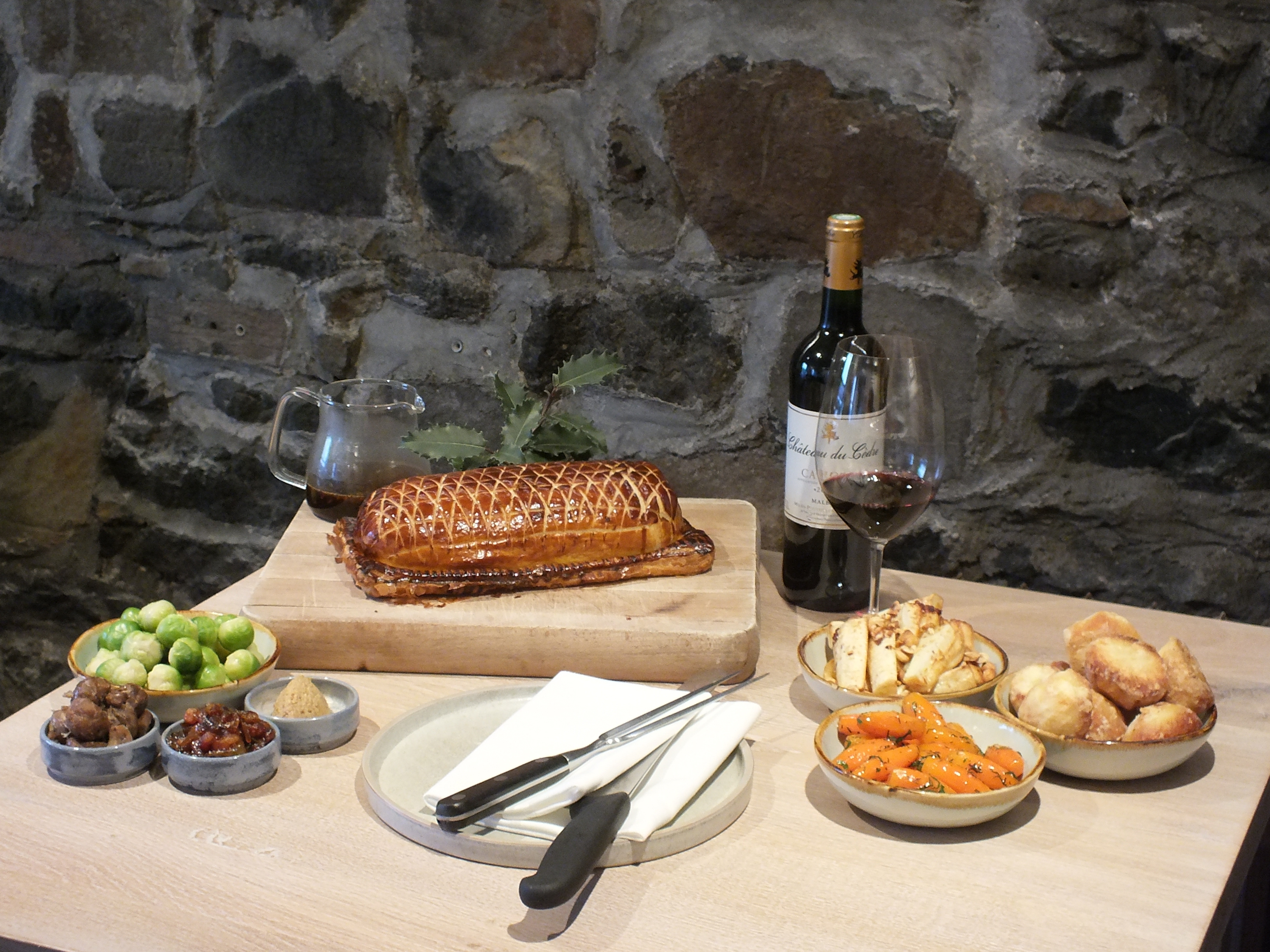 With the big day rapidly approaching we're sure that the designated Christmas Dinner chefs are mentally preparing for the occasion! If you are still at a loss as to what to cook, or would like to indulge in something other than turkey, we have persuaded our Chef Scott to share what he will be cooking on the day - a stunning Venison Wellington.

Our Restaurant Manager Danny recommends a robust red from Chateau du Cedre based in Cahors in the South of France - real home of Malbec! The wine is packed full of dark fruit flavours which compliment the gaminess of the venison whilst the tell-tale peppery finish matches the heat from the mustard and earthiness of the mushrooms.
Below recipe serves 6
Prep Ahead

Venison Wellington and sauce and can be made the day before.
Mustard & bacon jam can be made further in advance and will keep for a couple of weeks in the fridge.
Nordic mustard
120g yellow mustard seeds
120g brown mustard seeds
400ml Black Skye Ale - https://skyeale.com/skye-black
120g heather honey
100ml cider vinegar
20g Isle of Skye Salt - https://www.isleofskyeseasalt....
Boil the salt, honey & vinegar together. Add the mustard seeds, then ale. Leave to cool down overnight. Blend until a smooth paste. Keep in fridge until needed.
Savoury pancake makes 8
100g buckwheat flour
1 egg
250ml milk
1 tsp chopped rosemary
pinch of salt and pepper
oil
Mix all wet ingredients together, then mix in the dry ingredients. Warm a non-stick pan over a medium heat. Lightly brush with oil. Ladle enough mix to cover the pan. Cook until light brown, flip and cook for 20 seconds. Cool on kitchen cloth.

Chestnut mushroom pate
50g butter
125g shallot (finely diced)
15g light soy sauce
10g apple cider vinegar
15g Isle of Raasay Single Malt - https://raasaydistillery.com/r...
500g chestnut mushroom (thinly sliced)
3g dried thyme
1 bay leaf
3 cloves garlic (finely diced)
1 tbsp. chopped flat leaf parsley

Fry the mushrooms over a high heat with a little oil, in small batches till browned then season & remove from the pan. Add the butter and let it melt. Add shallots, garlic, thyme, bay leaf. cook with no colour for approx. 10 minutes until soft. Add the mushrooms, soy sauce, vinegar, whisky and cook until 2/3 of moisture is gone. Remove bay leaf. Pulse blend, check seasoning, and finish with chopped parsley.
Optional - use wild mushrooms such as ceps or winter chanterelle's. If you can manage to get some deer offal, liver, kidneys or hearts. Fry this off with the mushrooms, keep it medium and chop the offal and mix into the pate.

Venison loin
700g trimmed venison loin (keep venison trim)
1 tbsp. black pepper
1 tbsp. pink peppercorn
8-12 junipers
50g butter
Nordic mustard
Salt & oil
Lightly toast the black pepper for 1-2 minutes over a high heat. Remove from the heat. Crush the juniper in a pestle & mortar, add the peppers and pound until cracked and open. Set aside.
Heat a heavy cast iron pan over a high heat. Once hot add a little oil, season loin with salt. Place onto the pan. Brown on all sides. Add the butter, brown the butter and baste the loin over a low heat for 2-3 minutes. Remove loin from the pan and rest. Use the pan to make the sauce.
Once the venison has cooled, brush it with Nordic mustard all over and roll in the crushed pepper and juniper. Set aside. Any rested venison juices add to the sauce.
Optional - roast the venison loin over an open wood fire, finishing with juniper branches. It will add a beautiful smoke and finish to the meat.
Elderberry venison sauce

Venison trim from the loin
250ml venison stock/beef stock
250ml brown chicken stock
500ml elderberry wine
50-75ml elderberry vinegar
2 carrots (top & tailed), diced
150g button mushroom, sliced
50g sliced & peeled shallot
3 cloves of garlic, lightly crushed
1 tsp. black peppercorns
1 tsp. pink peppercorns
6 crushed allspice
1 tbsp. juniper berries, crushed
1 tbsp. blackcurrant jam
3 bay leaves
2 sprigs of thyme
1 star anise
20g black truffle, finely diced (optional)
Roast off venison trim in a cast iron pan until golden brown. Add and sweat off the carrots, until a deep brown colour. Add the mushrooms, shallots and garlic. Cook for 5 minutes, until light golden. Add the spices, herbs, vinegar and wine and reduce by 2/3. Add a pick of salt and cover with stock. Reduce to sauce consistence. Skimming for 20-30 minutes. rest for 10 minutes then pass through chinois or fine sieve and squeeze through. Then again through chinois or fine sieve and knock through. Check seasoning and acidity.
Build the Wellington
100g spinach wilted and drained
2 savoury pancakes
Cooked loin rolled in Nordic mustard & pepper
6 thin slices of cured ham such as Parma ham
Mushroom pate
500g all butter puff pastry
Egg wash - 2 egg yolks
2 tbsp. double cream
pinch of salt
Place two pancakes side by side on a double layered cling film. On one pancake spread out the cured ham & spinach. On the other pancake spread out the mushroom pate. Place the venison loin on the spinach close to you and roll up. Tuck in the ends of the pancake. Remove the cling film. Place on the mushroom, closest to you and roll up. Tuck the ends of the pancake in. Wrap in cling film. Leave in the fridge for an hour. Roll out puff pastry 2 mm thick into rectangle on a lightly floured surface. Remove cling film, place closest to you and roll up, make sure there is a 2 cm over lap and seal all edges and over lap with egg wash. Egg wash the pastry. Leave in fridge for one hour and brush again. Leave over night uncovered. Take out of fridge one hour before cooking. Score puff pastry, using back of the knife. Place in the oven set to 220 C or 200 C - Fan, for 25 minutes or 35 minutes if you wish for it to be well done. Rest for 20 minutes.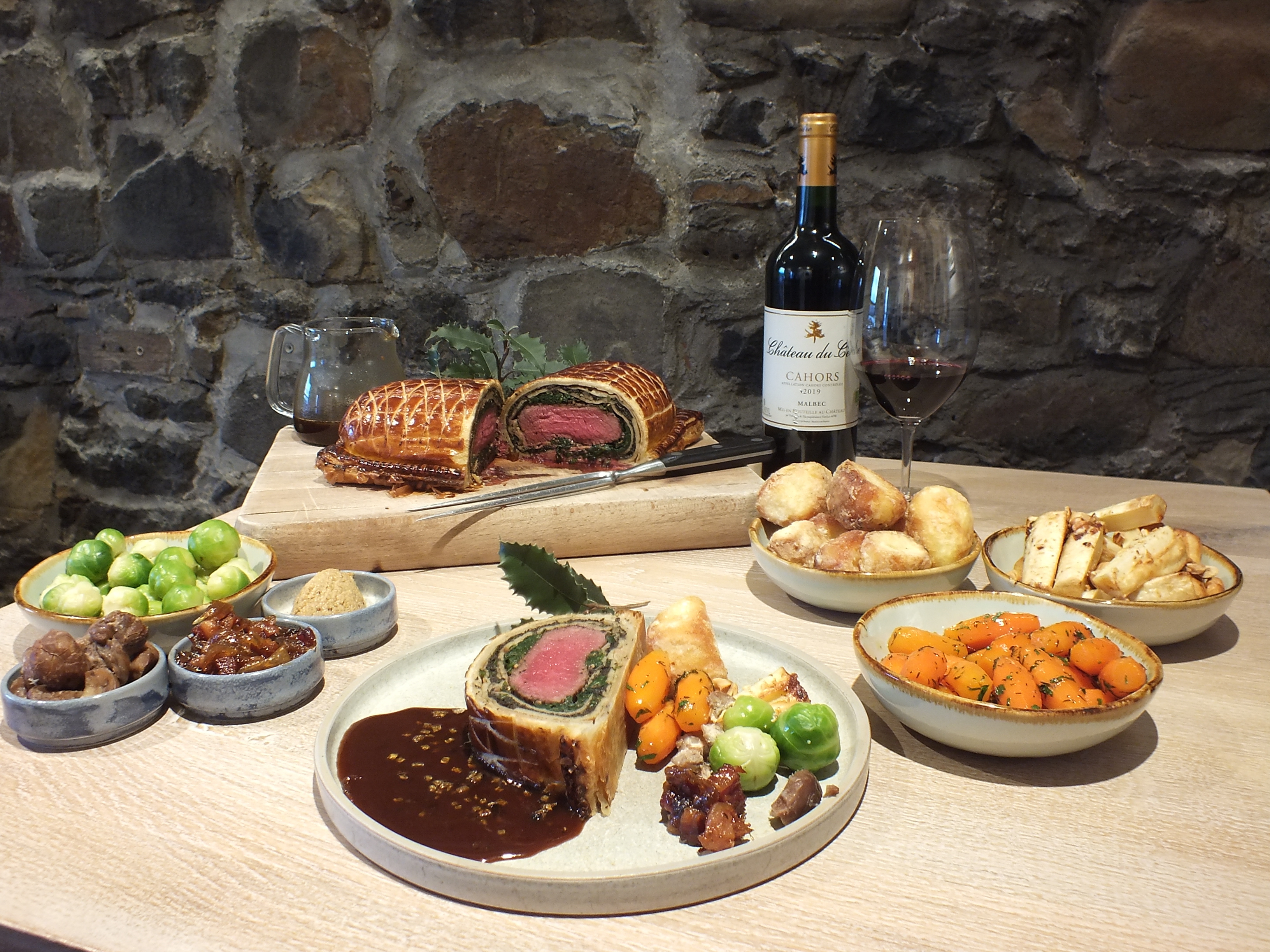 Sides
Goose fat roasted potatoes, sumac & chopped fresh thyme.
Brussel sprouts, bacon jam & chestnuts.
Roasted parsnip & Jerusalem Artichokes, toasted hazelnut/cobnut.
Shredded braised rainbow chard or kale, garlic and nutmeg.
Buttered caramelized heather honey carrots & sorrel.
Elderberry gravy.
Nordic mustard.
Black truffle.
Pancetta jam
500g pancetta diced roughly into 2cm by 2cm
500g onions, thinly sliced
3 cloves garlic, finely diced
3 bay leaves
1 tsp dried thyme
150g brown sugar
150g maple syrup
75g espresso coffee
150g cider vinegar
Roast pancetta in the oven at 170 C - fan for 25 minutes. Mix a few times. Drain the pancetta through a colander. Keep fat. Sweat the onion down in rind fat, until soft and light colour. Add garlic and bay leaves, cook for 10 minutes until light colour. Add all ingredients and cook to jam consistency.

Et voilà!