The Hidden Gems of Skye you should explore this spring
---
21.01.2023
The Three Chimneys, housed within a 100-year-old stone cottage, sits on the shore of Loch Dunvegan in the remote North-Western part of the Isle of Skye. A visit to us will take you on a journey through The Great Glen, past lochs, rivers, forests and countless waterfalls before rising over the Skye bridge and onto Skye. Whilst travelling, take in the dramatic black and red Cuillin's or the dramatic cliffs and waterfalls dropping straight into the Atlantic. Navigate roaming sheep, single track roads and peat bogs along Loch Dunvegan to your destination The Three Chimneys.
Our proximity to outstanding natural beauty makes for breath-taking scenery no matter what the weather. Our guests are able to immerse themselves in rural ideals such as, hiking, walking, wild swimming, star gazing, northern lights spotting and so much more!
Peaceful views over the Dunvegan Loch, with its scattering of small islets - platforms for sunbathing seals and their pups. Spot pods of dolphins, porpoises in the loch as well as cheeky sea otters. Dunvegan Castle is located across the loch, which you can visit on your way to the famous Coral Beach. Must see attractions including the spectacular Neist Point lighthouse, the Fairy Pools or The Old Man of Storr which are an easy drive.
With infinite things to experience on the Isle of Skye, our guests trust us to deliver a unique culinary experience showcasing and encapsulating everything Skye's bountiful larder has to offer. Served in the comfort and tranquility of the historic crofter's cottage overlooking Loch Dunvegan and beyond towards the Outer Hebrides.
In this new series of blogs we will be sharing with you our local knowledge so you can experience the hidden gems of Skye during your next visit.
Neist Point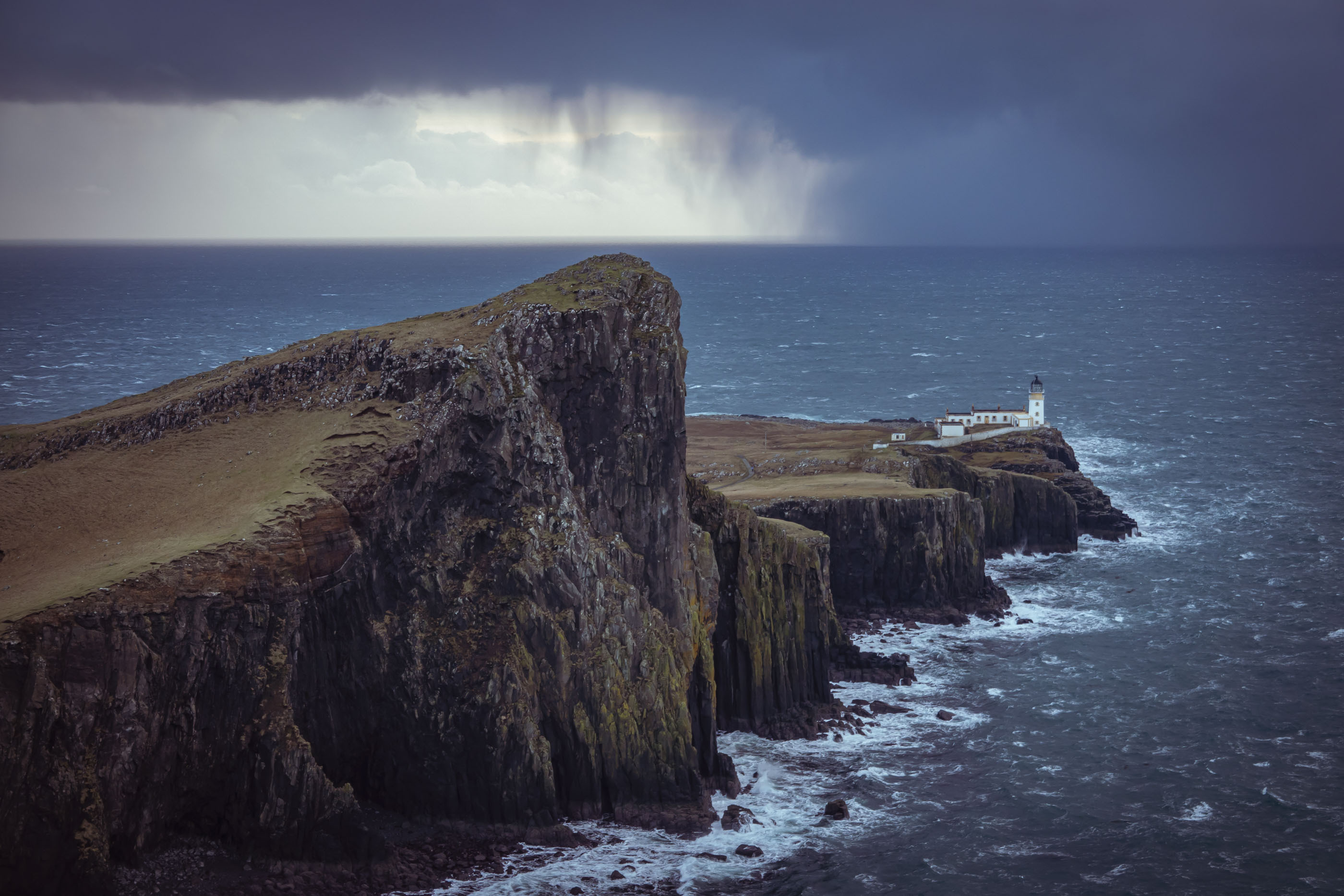 Neist Point is undeniably one of the most popular spots on Skye, with its dramatic views over the North Sea towards Uist. In the height of the season it can be quite a battle to reach the car park, such is it's notoriety! There is however a lesser known road that runs almost parallel to Neist Point which affords great views across to the lighthouse and also access to one of the most stunning coastal clifftop walks in the UK. This is the road to Ramasaig, a small township that was subjected to clearances in 1883, there are still outlines of lazy beds and many of the structures are still visible today. From Ramasaig you can walk to Waterstein Head and take in some breath-taking views across to the Cuillins and MacLeods Maidens, this takes roughly 2 hours there and 2 hours back. For the more adventurous, you can walk all the way to Orbost Farm a mere 10 hour trek!
Walk Scotland have published a guide for both walks.
https://www.walkhighlands.co.uk/skye/watersteinhead.shtml
https://www.walkhighlands.co.uk/skye/ramasaigorbost.shtml